Copyright © 2020
Barnel International, Inc.



Trademark & Patent Notice
Privacy Policy

ZF Professional Series Saws

Left/Right Reversible Professional Pruning Saws
This catalog page is intended to be viewed online and may not be printed. Please view this page in your browser at barnel.com. If you are a distributor and would like a printed or PDF catalog, please contact us at 1 503 291-1400 or by e-mail to info@barnel.com.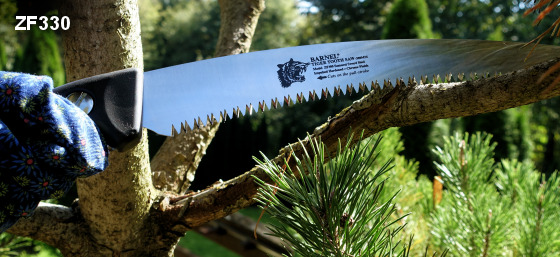 The new ZF Professional Series saw and sheath delivers unmatched speed, strength, convenience, and versatility.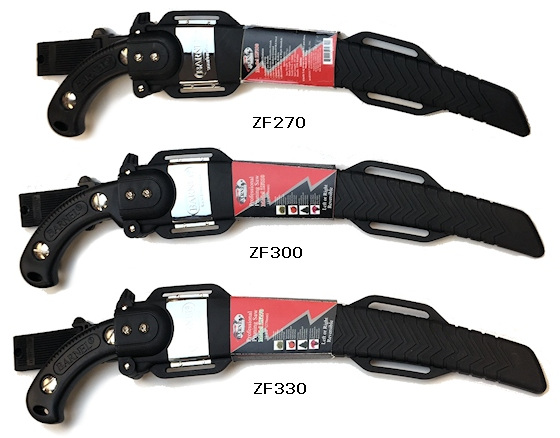 Blade Lengths:

ZF270: 10.5" (270mm)
ZF300: 12" (300mm)
ZF330: 13" (330mm)

Saw Features:

Cushioned rubber grip
Steel core handle adds strength
Curvature hollow ground blade
Impulse laser hardened SK4 steel
Hard chrome finished blade
Fully replaceable parts

Included Sheath:

Guidance component for easy saw entry/exit
Fully reversible for right- and left-handers
Ergonomic thumb rest to remove saw
Sheath clean out at end
Optional leg strap kit ZF STRAP

One saw, four positions.
You choose.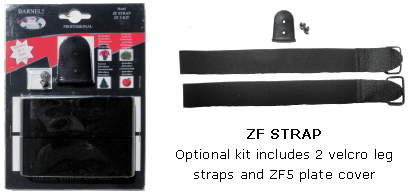 Model

Tooth
Pitch

Description

ZF270

•

•

•

•

•

10 1/2"
(270mm)

3.0 + 4.0mm

17"
(43cm)

14.8oz
(420g)

Saw, Shock Resistant Rubber Handles, Dual Tooth Pitch, w/ Deluxe Sheath

ZF300

•

•

•

•

•

12"
(300mm)

3.0 + 4.0mm

19"
(48cm)

15.7oz
(445g)

Saw, Shock Resistant Rubber Handles, Dual Tooth Pitch, w/ Deluxe Sheath

ZF330

•

•

•

•

•

13"
(330mm)

3.0 + 4.0mm

20"
(51cm)

16.0oz
(455g)

Saw, Shock Resistant Rubber Handles, Dual Tooth Pitch, w/ Deluxe Sheath

ZF STRAP

29"
(74cm)

1.2oz
(35g)

Pair of velcro leg straps and ZF5 plate cover for ZF Series sheaths